4 Inch Gold/Silver round embossed Scalloped edge cake board
Item No: (S)T3S/GR4A
Product name: Cake Round, foil embossed laminated, scalloped edges
Size available: 4 Inch to 20 Inch
Thickness Available: 1.5mm, 2mm, 3mm
Feature: Module cutting directly by machine, white or gray back
Material: Paperboard, Cardboard
Packaging: 10-100pcs in shrink wrap, according to your request.
The foil embossed laminated provides a grease-resistant barrier between your supported sweets and cakes.
The rigid cardboard material gives this cake board its strength. This cake board is die cut by hydraulic cutting presser machine, under incredible pressure to give the cake board a finished edge that is uniform and smooth.
Scalloped edge design, make it looks more attractive and good looking.
A Shimmering silver to support your cakes/sweets die cut to a perfect circle.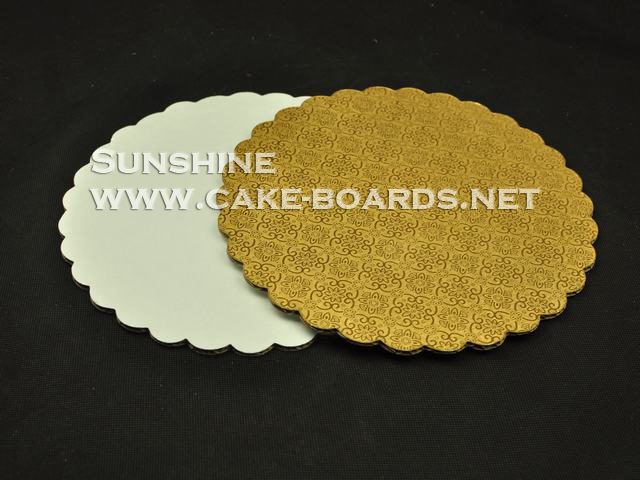 Good looking, grease-resistant, strong cardboard strength, better price. Your perfect Choice!!!
A good example photo to show you this perfect scalloped edge cake board!!!